One of the most notable locations in the Himalayan range is Leh and its capital Ladakh, which is also famous as the Land of High Mountain Passes. The destination is frequently visited by tourists from all across the world, and the best time to travel to this haven is April to June (in summer). The months of July-August are also ideal to visit Ladakh, but some of the tourist places might not be open to avoid the excess tourist crowd. Since the altitude is so high, Ladakh experiences long winters, and low air pressure too.
With that being the basic prerequisites to plan out for your travel, let's jump into defining places. In this article, we'll share with you our list of top places to visit in Ladakh and Leh,
1. Nubra valley
If you want to watch the true splendor of Leh Ladakh, Nubra Valley is where you must head to. It is popularly known as the 'Orchard of Ladakh', and is an edgy gorge located at a distance of about 150 kilometers from Leh. This valley has the confluence of Shyok and Siachen Rivers, white sand deserts, double-humped camels, rich lush villages, shining streams, and craggy mountain peaks.
To explore this beautiful valley, one needs to take a scenic journey from Leh to reach Nubra, and the heights of your route will surely give you an adrenaline rush.
2. Pangong lake
Ever watched the lake from the movie "3 Idiots"? Well, that's Pangong Tso Lake in Leh Ladakh. Also known as the Hollow Lake or Pangong Tso, this is one of Asia's largest saltwater lakes. It covers an area of approximately 100 km.
The crystal blue waters of the lake, with the surrounding landscape of bare mountain peaks, is a photographer's delight. In winters though, the lake freezes and its surface attracts tourists to the Ice Skating Festival.
A fact which is less know is that two-thirds of this lake is in Tibet (Chinese territory), one-third of it lies in eastern Ladakh (India).
3. Shanti Stupa
The Shanti Stupa is a religious place for Buddhists as it holds the relics of Buddha, consecrated by the 14th Dalai Lama. This white-domed Buddhist monument is the most recognizable landmark in Leh Ladakh.
Tourists can experience the joys of meditation inside the Stupa. And also witness the stunning views of sunrise and sunset which are completely breathtaking.
The walls have gilt panels that depict the life of Lord Buddha. And on the first of this two-storied structure has a Buddha statue in a sitting position on a pedestal, turning the Dharmachakra.
4. Magnetic Hill
Located on the Leh-Kargil-Baltik national highway, the hill is so-called as vehicles seem to defy gravity and move upward on the hill when parked at a marked spot. If you want to experience this, simply turn the ignition off, don't put hand breaks, and voila! your car will start moving slowly. It's kind of mysterious and if you don't believe this, you can experience this yourself.
It is around 30 km from Leh and the hill lies at a height of 14,000 feet above sea level.
5. Leh Palace
Leh Palace is a 17th-century former royal palace that is converted into a museum. Inside, there are corridors, spacious halls, and chambers. But the most amazing beauty of this palace is that its ingenious structure makes the interior warm on cold days and cools in the scorching summer heat.
The fort is slightly in a ruined condition but the views from the top are stunning. The massive nine-story stone structure lies at the base of the Tsemo ridge and towers over the old town. It was designed in the Tibetan style that was later made famous by Potala Palace in Lhasa.
6. Changla pass
The 15km long pass is especially popular amongst bikers. Chang La Pass is a high mountain pass and one of the highest motorable roads in the world. The name literally means "Pass towards the South" or "Pass in the South" (Chang — south, La — Pass).
Chang La is approached from Leh via Kharu and Sekti village by an asphalt road, but do note that the climb is very steep and requires a careful and experienced driver.
7. Tso Moriri Lake
A twin sister to Pangong Lake, Tso Moriri is the largest high altitude lakes in India, at an altitude of 4,595 meters. Fewer tourists visit this lake due to its remote location, harsh climate prevailing here, and rough roads, but if you can compensate for these factors, the lake itself is a scenic beauty.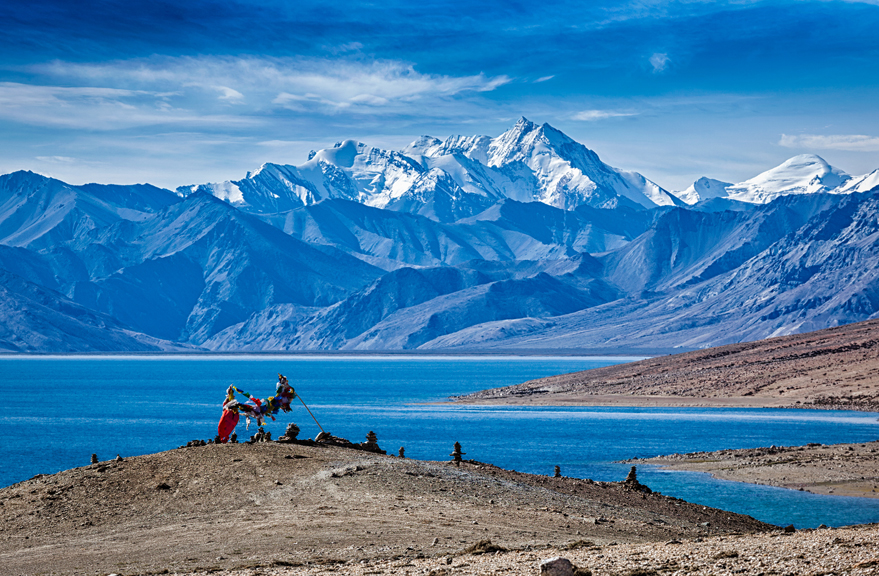 With its blue waters, surrounding mountainous landscape, and open sky. Camping and sleeping here, under the starry night sky, is an experience worthy to have.
8. Zanskar valley
Among the most beautiful places in Leh-Ladakh, Zanskar Valley is well-known for its captivating views and adventure sports. On your visit here, you can also experience Sangam, which is the confluence of Indus and Zanskar Rivers in Ladakh.
Also, the Zanskar Rafting expedition is claimed as one of the best river trips in the world and is done on the Zanskar River, called the Grand Canyon of India, with high cliff-like gorges at certain places.
The views of Drang-Drung Glacier are simply mesmerizing from here. The valley is also quite popular among adventure enthusiasts, especially Chadar Trek during winters.
9. Khardung La Pass
Khardung La, also known as Khardzong La, serves as the gateway to Shyok and Nubra Valley and an inner line permit is required to visit this motorable road. Its unique terrain makes it a hotspot for mountain biking expeditions. It is also the most treacherous road to drive, as heavy traffic falling rocks, melting snow, mud and craters make it a nightmare for drivers.
The views are awe-inspiring. There is a souvenir shop here from where you can buy some memorabilia too. The road itself is quite busy on some days as it is frequently used by the Indian Army to carry supplies to the Siachen Glacier.
Key Takeaway
Can't hold off that feeling of traveling? Well, you need not to. Let us plan your next trip to Ladakh, reach out to our travel experts today!