Kullu Manali offers a blend of adventure and tranquility, and with its soothing backdrop of the Himalayas, it accounts for one of the top hill stations in India. Here, you can visit the famous temples, indulge in your adventure, and get to the topmost point at Solang Valley and Rohtang Pass.
In the middle of these spell-binding views, charming streams, fairy-tale-like fog, there are a lot of places that can leave a smile on your face. To help you with the same, here are a few of the top places to visit on your next travel.
1. Solang Valley
Situated on the way to Rohtang from Manali, Solang Valley is one of the most popular tourist destinations in Himachal Pradesh. It's a haven for adventure enthusiasts and offers parachuting, horse riding, paragliding, driving mini-open jeeps specially available for tourists of all age groups, and whatnot! You can even dress up in the traditional Himachali attire and click pictures with loved ones.
If you plan your visit in winter, the entire place is covered by fluffy, milky white snow. This combined with clear blue skies, and magnificent mountains as far as the eye can see — Solang is truly at its most splendorous experience for anyone.
2. Jogini Waterfalls
Jogini Waterfalls can be reached by trekking from Vashisht Temple, and it's one of the popular places to visit in Manali. With a height of about 150 feet and a small pool at the base, visitors can take a plunge in the water and make some happy water memories.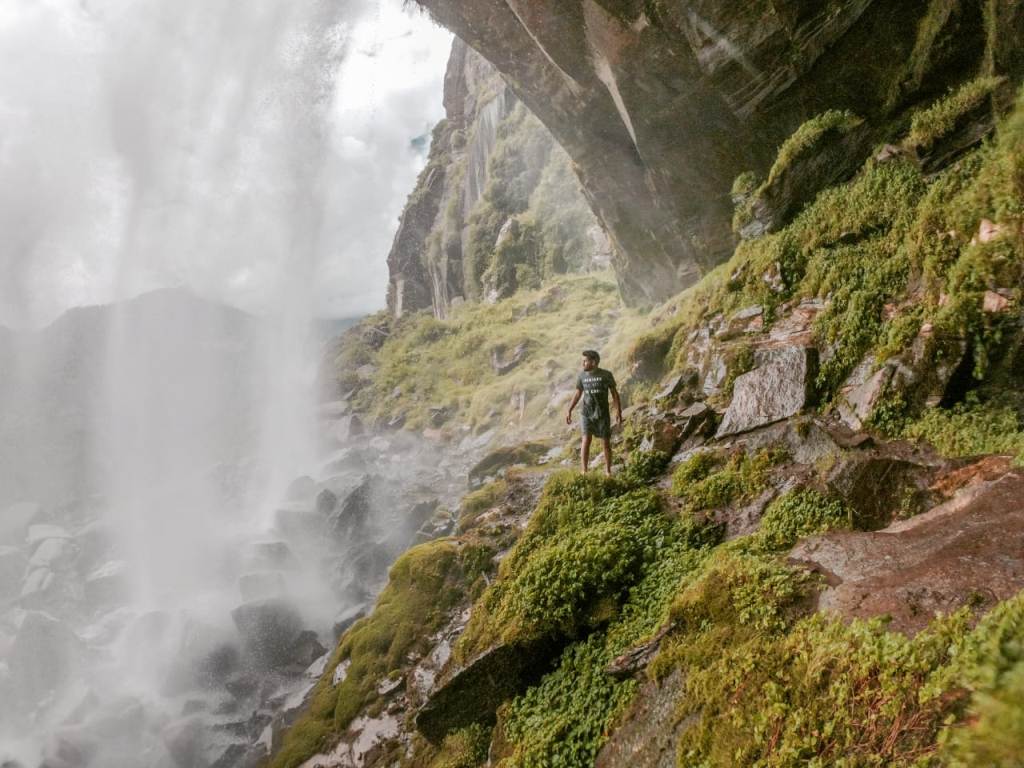 The trek route passes through a narrow lane adjacent to the Vashisht temple and goes through a lane of apple orchards, tall pine trees, and small water streams. In this way, few restaurants and guest houses are also available, so you can plan your stay if you find the sound of water mesmerizing.
3. Hadimba Temple
As the name suggests, the temple is dedicated to Hidimba Devi, wife of the strongest of the Pandava brothers, Bheema. Folklore states that the Goddess Hadimba used to meditate within the confinements of the temple. There are two magnificent wooden shrines at this temple, one dedicated to Goddess Hadimba and one to her son, Ghatotkacha.
The main attraction of the temple is the three-day Hidimba Devi Festival, which features colorful folk dance performances.
4. Rohtang Pass
Located at 4000 meters above sea level, Rohtang Pass is one of the most spectacular destinations in the entire Kullu Manali region. This pass connects Kullu valley with Lahaul and Spiti which in turn provide access to Leh Ladakh. It is open for tourist from April to October and the permission to travel on this highway is given by the Indian Army, once they clear the snow.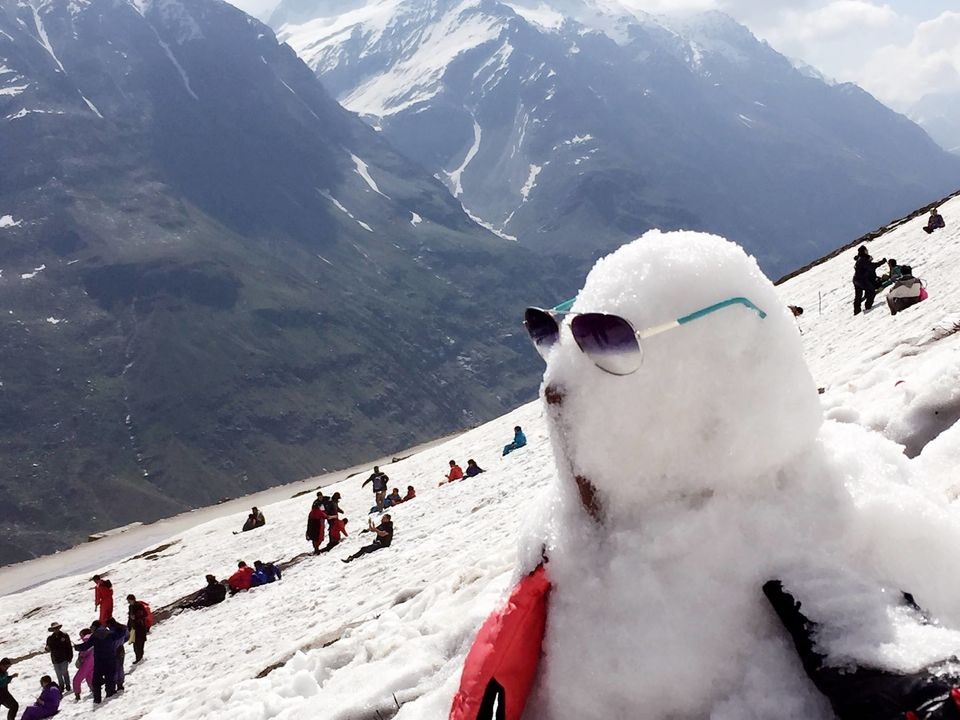 The pass is a haven for adventure activities like mountain biking and skiing, along with a picturesque spot for nature lovers, artists, and photographers for generations.
Also, worth the mention, many Bollywood blockbusters like 'Jab We Met' and 'Yeh Jawani Hai Deewani' have been shot here as well.
5. Hampta Pass
If you're an adventurer, you'll be happy to know that landscapes change vividly every few hours of walking on the Hampta Pass trail. The Chandratal Lake located en route is another key attraction of the trek, but the mesmerizing views of the Kullu Valley and Lahaul Valley are nonetheless fancy.
It is the perfect trek for beginners (rated as easy-to-medium-difficulty), the place itself is easy to access and the adventurous experience of crossing the pass is simply energizing. The pass is a must-visit if you are planning your trip for 4 days or more to Manali.
6. Manali Sanctuary
Manali Sanctuary offers you an unparalleled wilderness experience and is located at a small distance of just 2 km from the town. Maple, walnut, poplar, willow, and deodar groves add extra allure to this sanctuary, especially in the autumn months when the leaves create an array of colors.
Spread in a massive 3180 hectares of area, you can catch sight of a number of endangered species like Himalayan Black Bear, Barking Deer, Himalayan Yellow-throated Marten, Flying Fox, Himalayan Palm Civet, and more during your visit.
All in all, the adorable beauty of the Manali Sanctuary packed with a host of wildlife species, and dense towering trees makes it a must-visit on your checklist.
7. Bhrigu Lake
The scenery and panoramic views of the Pir Panjal Range are what draw most visitors to this place. Bhrigu Lake is rated one of the best trekking destinations around Manali. Situated at an elevation of around 4,300 meters, it is located to the east of Rohtang Pass and is around 6 kilometers from Gulaba village.
According to local folklore, Maharishi Bhrigu, one of the seven great sages of Indian history used to meditate here. This is why the lake is rendered sacred and never freezes completely, even when the temperature goes down below zero.
8. Beas River
Beas originates from the Himalayas and flows around 470 kilometers to the Sutlej river in Punjab. The spotis a hub of water sports such as kayaking, rafting, river crossing, and the nearby areas are considered to have some of the most exciting rapids.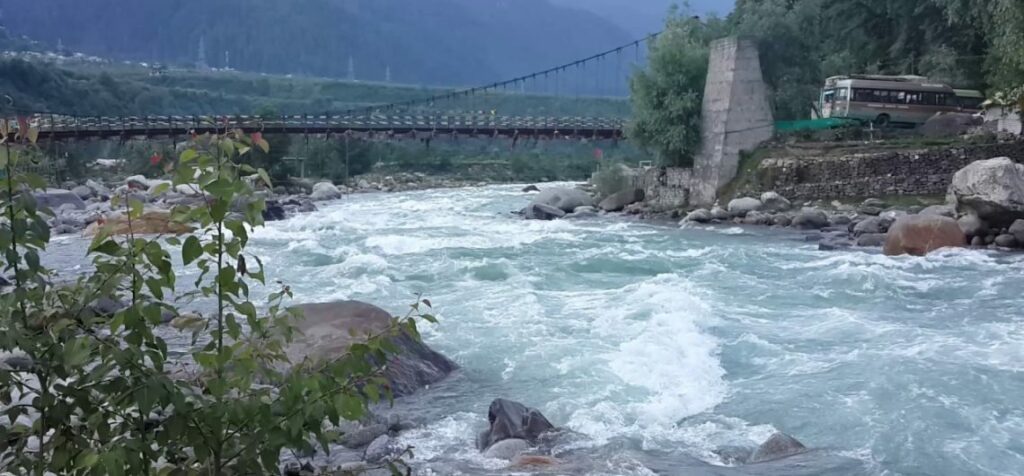 With its clear blue waters flowing down with great speed and hitting the sturdy boulders on their way, it's surely a must-see on your next vacation.
9. Sethan Valley
Located approximately 12 km from Manali, Sethan is a Buddhist village in Himachal Pradesh. This tiny hamlet that oversees the Dhauladhar range is covered in snow during winters and is a great place to try out sports like skiing, ice skating, and snowboarding.
As the place is one of the popular offbeat destinations in Manali, it's usually isn't crowded. If you are someone who's looking for a relaxing and surreal experience around the Kullu region, then Sethan Valley is the place to be.
Key Takeaway
Excited to visit them all? Let us help you in conquering this dream of yours. Reach out to our travel experts today and we'll cater you with the best travel experience for your next Manali trip.