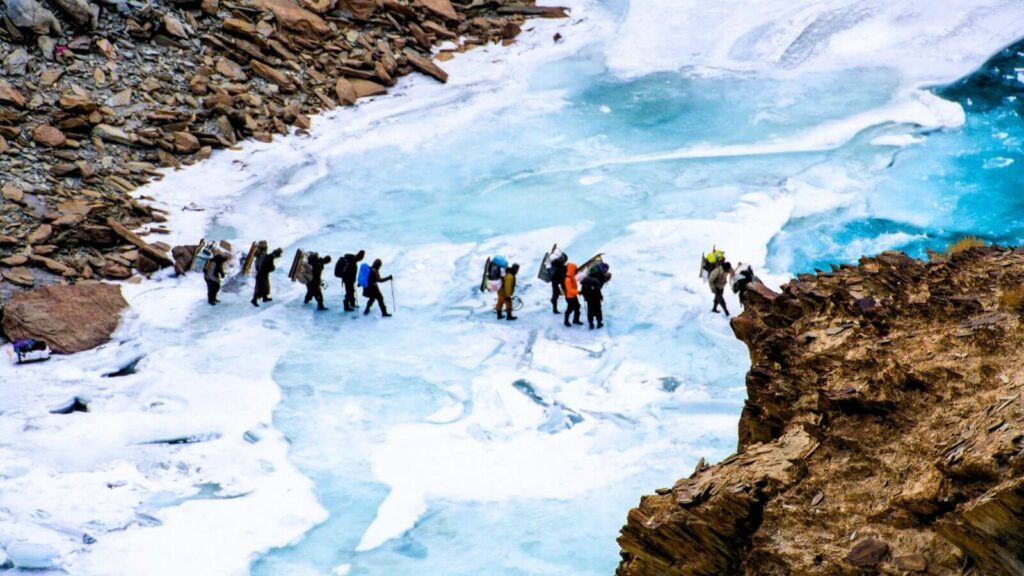 The Chadar Trek is a challenging winter trek in Leh, Ladakh that requires appropriate gear and clothing to keep you warm and safe in extreme weather conditions. Here is a detailed list of essential gear items you should consider taking on your Chadar Trek:
Warm Layers: The most important gear item for the Chadar Trek is warm clothing layers. You will need thermal base layers, fleece jackets, insulated pants, and a down jacket to keep you warm in sub-zero temperatures. You should bring at least two sets of each layer to ensure you have a backup in case your clothes get wet.
Waterproof Gear: It is important to stay dry and protected from the snow and ice, so you should pack waterproof gear such as a rain jacket, waterproof pants, and waterproof boots. Make sure your gear is made from high-quality materials that are both breathable and waterproof.
Footwear: Proper footwear is essential for trekking on the icy terrain of the Chadar Trek. You should bring insulated waterproof boots with good traction to prevent slips and falls. You may also want to consider wearing gaiters to keep snow out of your boots.
Sleeping Bag: You will be camping in extreme cold temperatures, so you will need a good quality sleeping bag that can withstand sub-zero temperatures. A sleeping bag with a temperature rating of -20 degrees Celsius or lower is recommended.
Backpack: A sturdy and spacious backpack is important for carrying all your gear and supplies on the trek. You should choose a backpack with a capacity of at least 60 liters.
Headlamp: A good quality headlamp is essential for navigating the dark campsites and trails during the trek. You should bring extra batteries and a spare headlamp in case your primary one fails.
Sunglasses and Sunscreen: Even though it's a winter trek, the sun can be intense at high altitudes, so you should bring sunglasses and sunscreen to protect your eyes and skin. You should choose sunglasses with polarized lenses to reduce glare from the snow.
Water Bottles and Hydration System: Staying hydrated is important for trekking in the high altitude environment, so you should carry water bottles and a hydration system with you. You should aim to drink at least 3-4 liters of water per day to prevent altitude sickness.
First Aid Kit: It's always important to carry a basic first aid kit that includes medication for altitude sickness, pain relief, and any other necessary items. You should also bring blister pads, bandages, and other items to treat common trekking injuries.
Other Gear: Other gear items you may want to consider bringing include trekking poles, camera, power bank, and a portable charger.
Make sure you pack all the necessary gear and clothing for your Chadar Trek and consult with your trek operator for any additional requirements. It's important to choose high-quality gear that is both warm and waterproof to ensure a safe and enjoyable trekking experience.