Kasol, also known as the "Amsterdam of India" or "mini-Israel", is a picturesque beauty in the state of Himachal Pradesh. The best time to visit Kasol is during summer that is the months from March to June. Nature is at its best during this time. And in this article, we would be sharing with you a few of the best places to visit in Kasol during your next detour.
1. Nature Park Kasol
The Nature Park is an ideal spot to jog and stroll under the canopy of looming Pine trees. The Parvati River flows through the park combined with the peaceful atmosphere and worn-out rocks, this makes it a serene and quiet place to relax. You can easily find good cuisine restaurants nearby and plan an evening for a walk with yourself.

2. Chalal
Taking a walk into Chalal can facilitate your breath with fresh air and settle down your soul. This village is known as well as admired for the Israeli culture. The best time to visit Chalal is during the summer between April and June.
With Kasol becoming a mainstream village, Chalal has found its fan following among backpackers and trekkers, who come out here to trek, camp out under the stars, or enjoy some hot chai as they soak in the sheer splendor of the scenic panorama of the grand Himalayas.
3. Parvati River
The calming waters of the Parvati River originate from ManTalai Glacier. A chance to leave behind the fracas of life for some time, you can feel the tranquil rumbling of the rocks as the water gushes.
Though this place is not ideal for adventure activities, the mystifying serenity of this place makes it a must-visit.
4. Manikaran Sahib Gurudwara
Located at a distance of 4 km from Kasol, Manikaran Sahib is popularly known as a famous pilgrimage destination for both Sikhs and Hindus. There are three hot springs where one can take a bath, one being inside the Gurudwara itself and the other two being privatized by the guesthouses. The water within is considered auspicious and said to have healing properties for the human body that can cure skin and other disorders.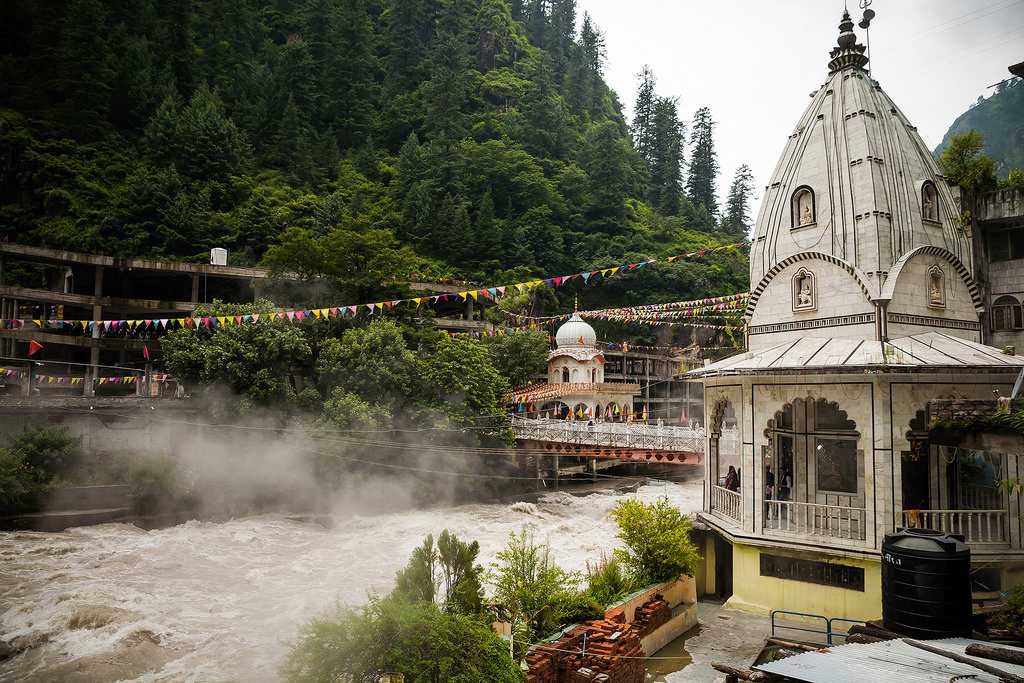 The spring is located near Gurudwara Manikaran Sahib, and there are folklores attached to the spring that hail their origin from Hindu and Sikh religions.
5. Magic Valley
The Waichin Valley or Magic Valley is located at an altitude of 2,700 meters, above Malana Villag. This hidden gem in Himachal is an absolute treat for nature and adventure lovers.
While the wintertime means stark white terrains, springtime brings about red and pink rhododendron flowers and summertime lush green meadows. With majestic snow-covered mountains including Khiksa Thaj Glacier, and Tiger Mouth Peak, mesmerizing waterfalls, dense coniferous forests, and streams, it is a must-visit for anyone who needs to experience nature to its fullest.
6. Tosh Village
The tranquil village of Tosh is an example of unparalleled beauty and is popularly known for its cannabis plantations. The place itself is untouched by modernization and fast-paced life and is one of the favorites for the majority of youngsters.
People also opt for the Tosh trek during their visit to the village. Indulging in a trek to the Tosh Valley exposes the individuals to an exotic charisma. Mostly, due to incredible snowfall, the trekking trails usually remain covered with snow and offer an unforgettable experience.
Tosh has become quite popular in recent years due to its proximity to the famous hippie town — Kasol. People often plan a stay here to practice yoga and meditation in the clean, fresh air and peaceful surroundings.
7. Tirthan Valley
A blessing in disguise, this unruffled destination has just the right things to turn your vacations into an eternal bliss. To reach the valley, you'll have to drive for about 60 kilometers from Kasol but trust us, it's totally worth it.
The thinly populated village has a number of the foremost picturesque locations that you simply will surely admire. And as the place is an offbeat destination, and is secluded from the modern life tantrums, you can get the type of mental peace here that you just are searching for. A one-day trip to this valley is all it takes to make your travel experience more wonderful.
8. Malana Village
Situated at a height of 2,652 meters i.e. approximately 8,701ft above sea level, there is so much beauty underlying in this town that there are numerous documentaries made on this town, depicting the wonders that Malana encompasses (our favorite being Malana, A lost identity). The village is quite ancient and is completely pristine located on the side of Parvati Valley, and is surrounded by the amazing Deo Tibba and Chanderkhani mountains.
Apart from the natural beauty, Malana is also known for its unique lifestyle and social structure that the locals essentially follow.
Key Takeaway
Wondering how you would feel over your visit to these magical locations? Stop wondering, start acting! Let us travel experts serve you with the best-in-class services that aim at delivering only a top-quality travel experience. Reach out to us today!