Dream of flying? Well, yes you can! and that too in India. Bir Billing is a destination that is popularly known as the 'Paragliding capital of India' and is also known to be a center for ecotourism as well as spiritual studies.
And just like any other tourist destination, this place too has its famed places to visit and exciting things to do. So let's unveil the 7 top Bir Billing places you could add to your next trip.
1. Gunehar Waterfall
Gunehar Waterfalls is one of the prime attractions of the Gunehar village and is situated around 1.5 km away from Bir. Apart from the mesmerizing landscape, one can also enjoy jeep rides or ride mountain bikes through the quaint pathways, and a view of the magnificent Dhauladhar mountains in the backdrop.
As the name already suggests, it offers crystal clear water cascading down the hillock, which is a pure visual delight. This spot is moderately crowded as it is frequented by a number of tourist visitors, especially photography buffs and nature lovers.
2. Chowgan Tea Garden
The lush green Chowgan Tea Gardens provide an excellent opportunity for tourists to discover some of the state's different teas. These tea estates look magnificent with hills and misty clouds in the background and qualify as a picturesque paradise for many tea lovers.
These tea gardens are located in the lower Bir and hills occasionally have misty clouds as a backdrop. You'll casually see workers with baskets on their backs, some of them are quite friendly so you can laugh with them and get snapped too!
3. Sunset point (Landing Site)
Bir Landing Site in Bir Billing, also known as Sunset Point, is so named because of the fact that the spot is used by paraglider pilots as an official landing spot. Hence, one can enjoy the views of paragliders gracefully descending here.
Apart from just being a place where you land up after your flight, it does offer a scenic sunset view. Also, there are a number of cafes and restaurants you can find nearby which makes it one of the most enthralling places to see in Bir Billing.
4. Chokling Monastery
Chokling Monastery accounts as one of the most popular monasteries in Bir Billing. This magnificent monastery is painted in white and is adorned with other bright colors; making it look stunning. And it houses a grand and huge stupa as well as an enthralling statue of Padmasambhava.
From the 'Om Mani Padme Hum' multi-colored flags, fluttering in the air along with the entrance decorated with sculptures; this altogether makes the Chokling monastery undoubtedly a perfect place to layover.
5. Barot Valley
If you are a backpacker, this destination is perfect to backpack through for a day or so. Located about 67 kilometers away from Mandi, Barot is a mesmerizingly beautiful village that offers scenic landscapes and a natural breeze that attracts tourists for sightseeing and much more.
There are camping and other accommodation facilities available around here. But trekking isn't the only attraction here. Another activity you can indulge in is trout fishing at the Uhl river.
6. Deer Park Institute
Deer Park Institute is a haven for all those seeking the tenets of Indian and Buddhist ideals. Apart from the painting-covered walls and the many learnings that you will take with you, you can also take classes on meditation, culture, yoga, and philosophy here.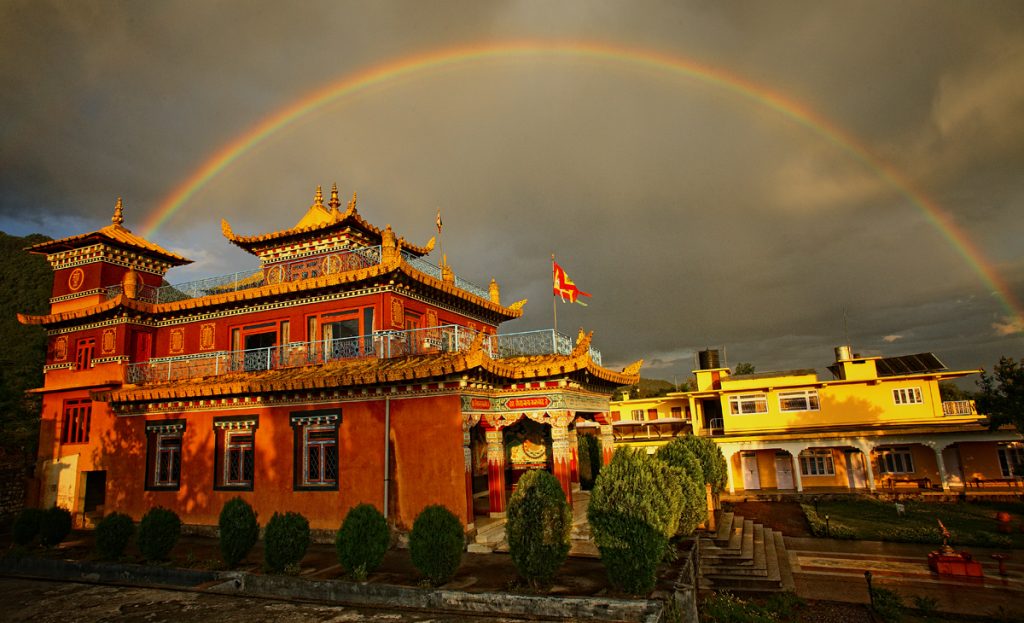 We recommend that instead of just visiting it for a day, plan an overnight stay here, as the prices are affordable and you get a chance to make new friends, eat delicious food, and master amazing teachings.
7. Baijnath Temple Bir
Baijnath or Vaidyanath is an avatar of the great Lord Shiva, and in this avatar, the great lord rids his devotees of all miseries and pain. Baijnath Temple is one of the most popular temples in Himachal Pradesh, and here, Lord Shiva is worshipped as the 'God of Healing'.
It redefines the Nagara style of architecture, which is highly popular in Himachal Pradesh. While the inner and outer walls of the temple have exotic carvings and sculptures depicting incidents of Hindu mythology, the inner sanctum houses the holy shivling. The temple also offers its visitors a scenic experience in the Dhauladhar mountain ranges of the Himalayas.
Key Takeaway!
Mesmerized? Why not take that leap of faith that you've been holding back and just visit Bir Billing as your next travel destination. Worried about the cost? Don't worry at all then! Our travel experts will tailor the best travel experience for you at an affordable cost. So, stop the worry and reach out to us today!